We all ship at least one couple maybe because of their chemistry or understanding relationship that is shown in a drama or movie. Well, I ship a lot of people with my favourite actors/actresses. I guess we all do. So I thought about writing about this topic. 
So, in real life, I used to ship a lot of people but after some time I realised that it's not a good thing. First of all, people are connected by their destiny. And when shipping happened to me I felt really hurt. My teacher used to tease me by shipping me with the guy I hated the most. At that time I realized that we shouldn't take this thing to an extreme level. And at the end of day people will end up with the person they were destined to be. 
When reading, be aware that by shipping I mean I would like to see them in another drama/movie together. Let's start-
This article contains major spoilers
Couples Who Needs To Be Paired Another Time As Leads
                                             Kim Young Dae                                    And                                           Cho Yeo Jung                     
 The idea definitely came  across my mind because of this couple. 
They have worked together in Cheat On Me, If You Can but there wasn't any direct romance between them. 
Kim Young Dae's character Cha Soo Ho was totally in love with Cho Yeo Jung's  character Kang Yeo Joo. He always looked at her as he was always looking for someone like her. I watched the drama just because of them. His flirting was no joke. And her boldness oh my god! I want them again as main lead's in a romance thriller drama. It's definitely gonna be a noona romance. The story should be thriller and mysterious with  enemies-to-lovers or a college romance theme.
 Yoo Yeon Seok                                        And                                     Moon Chae Won
They have worked together in Mood Of The Day. Their chemistry was something made in heaven. This movie's story is really good but for me their chemistry and interactions were the main thing that makes this movie a little more special. They perfectly carried their roles. And them falling in love was so smooth. I don't know why other directors never offered them another project. They are perfect for Rom-Com dramas or movies. I want to see them in an office-college's Rom-Com drama. Definitely not boss-employee themed though.
Mike Angelo                                     And                                          Zhang Yuxi
Mike and Xixi are really a favourite couple of mine. I mean, you know, two strangers from different countries and then a cute Rom-Com drama. And the fact My Little Princess was Mike's second C-drama but Xixi's first main lead drama. They had beautiful chemistry. From the beginning to the end their chemistry was always good. I will always hope that someday they will work again in a drama.
Jerry Yan                                                   And                                                    Tong Li Ya
Tong Li Ya is one of the most beautiful Chinese actresses I have ever seen. I didn't even know them until Loving Never Forgetting. The drama is really good. But people still talks about their chemistry. The way Jerry Yan's character falls in love with Wu Tong was great. I literally ship them hard. It's been a long time but if they work together again in another drama I'm sure it going to be really popular.

Park Hyung Shik                              And                                                           Uee
I have a lot to say about this couple. They have worked in High Society. And when I got to know that they aren't a couple I dropped the drama right then and there and I'm not gonna ever regret it. This drama could have been better if they were the leads. I think I'm not the only person who shipped them while watching the drama. And one more thing, if the writer had forgotten about the rich-poor trope and had focused on rich-rich and poor-poor it definitely would be the best K-drama ever.
Timmy Xu                                                  And                                           Johnny Huang
They have worked together in Addicted Heroin. They already owe us another two seasons. But it's not their fault though. This couple had such a great bond and chemistry that I will never forget. I didn't use to watch BL dramas. I first saw Johnny Huang in Love Designer. And one day I saw a comment about him on YouTube where one person commented that after Addicted he has a good chemistry in Love Designer. I searched Addicted and found out it's a BL drama. I started watching this drama. This drama is the reason why I started watching BL dramas in general. Talking about their chemistry it was beautiful. I will always wait for a second and third season.
Tor Thanapob Leeluttanakajorn                       And                                    Kao Supassara Thanachart
Kao and Tor are a couple that I will always adore. They are cute, beautiful and a very hot couple. I love them a lot. They are one of the most famous couples of Thai dramas. They have worked together in a few dramas already. They are really good friends in real life.
Sakurada Dori                                     And                                Fukuhara Haruka
The way this guy was kissing the girl it felt like he wants to eat her. Talking about their chemistry it was really good and I would love to see them in another mature Romance drama.
Ray Ma                                                         And                                            Zheng Shuang
I ship Zheng Shuang with Ray Ma the most. I have see them in River Flows To You. The drama was a little slow but their chemistry and friendship is something I liked a lot. I love this couple a lot. I want to see them again in a romantic drama.
         March Chutavuth Pattarakhumphol     And                                  Kao Supassara Thanachart
To me March and Kao are a dreamy couple. Kao started her career with March. And they look so adorable together. I don't see any opportunity of them working together again but I really wish that some director cast them in a new drama or movie. They have worked together a few times. 
   Vin Zhang                                        And                                Zheng Ye Cheng
They look cute together. I know they will never work together in a drama as love interests but still I ship them. They had amazing chemistry. And their visuals. 
Ryan Ren                                        And                                        Kabby Hui
They are a sweet couple whom I liked a lot so it will be good to see them again together. Maybe in another older woman/younger man drama?
Gunsmile Chanagun Arpornsutinan          And                                     Fluke Teerapat Lohanan
I definitely know that I wasn't the only one who shipped this couple while watching Sotus. The whole time I was looking for Wad. But they didn't give us anything. After the gear giving event I thought finally now their story is going to start. But I didn't know that this is going to be the end of their story. They really should have their own show.                                     
                                 Choi Woo Shik                           And                       Uee                                                              
I had a one month crush on Choi Woo Shik. Yes, for just one month. And when I saw him in a kissing video with Uee, I felt really jealous. But after watching their drama I fell in love with Uee. She is so beautiful. Aren't they adorable together? Yes, they are. They have a soft chemistry with no force or toxic thing behind it. Love is blind and love is foolish but if you find the right person it's really beautiful. I'm not the only person who wants to see them again. 
Dream   Drama   Pairings
Below I am mentioning my dream drama couples. They haven't worked together yet but I really want them to collaborate. I have paired Moon Chae Won with a lot of people because I ship them with her a lot.
Kim Soo Hyun                                     And                               Moon Chae  Won
I'm 100% sure that I'm not the only person who badly wants to see them in a drama. They are great actors. Both of them are also really famous actors. Any kind of role and genre is fine. I just want see these two beautiful actors together as main leads.
Allen Deng                                    And                               Zheng Shuang 
Allen Deng and Zheng Shuang should have been paired a long time ago. I would like to see them in a historical drama. Their visuals are just fine.
Ji Chang Wook                                       And                                     Moon Chae Won
This one is a couple that has a lot of shippers. They have many fan pages on Instagram. Ji Chang Wook is a famous actor and I really would love to see them together. I think maybe in the future they have the possibility of working together. Action with Romance or a realistic story with a little sad love story will be good.
Zhang Yu Jian                                      And                                              Zhang Yuxi
There is a good reason for shipping this couple. And it's because of MDL. For a long time on their profile it showed that there is an upcoming drama in which they will feature, named To The Hardworking You. The story was really good and if it had happened it would have been Xixi's first office romance drama. But unfortunately it didn't happen. But there are good chances of them to work together, which I really hope comes true.
Mario Maurer                                                       And                              Kao Supassara Thanachart
This ship also has a lot of fans. And they have high chances of being paired. They are from the same channel. And they are also the brand ambassadors of a watch company. So maybe in the future we will get to see them together. 
       Gong Yoo                                               And                                  Moon Chae Won
I love his acting a lot and I love her. I want them in a drama where both of them actually don't want to get married. And their parents keep forcing them to get married. Both of them are rich and after graduation they went abroad and returned to South Korea after more than . Their age difference will be 8 years as their actual age difference. Maybe their characters can be a little dumb and the drama can include pure comedy. I want to see them in a comedy drama. If this actually happens I will die out of excitement.
James Jirayu Tangsrisuk   And  Kao Supassara Thanachart
People are waiting for this couple since 2016. And as Kao has worked with Warintorn Panhakarn and Mark Prin Suparat, there is a high chance that next can be James. 
Mark Chao                                    And                                           Tong Li Ya
Yaya is so beautiful and they will be a good couple. Modern or historical drama will be fine. I just want to see them together. 
Yoo Ah In                                           And                            Moon Chae Won
Yoo Ah In is an actor who has a different kind of acting style. He is a pure beauty. Talking about Moon Chae Won she has two things that literally god gifted her. She didn't take any acting classes, she doesn't need to. She is born with great acting skills. And the second thing is she can pull off chemistry with any actor and actress. Yes, she has this ability. Anything will be fine. Please do cast them. 
I started writing this article in April but after few days I dropped this idea. But this time I thought I finally should write it again. I'm glad I finally finished it.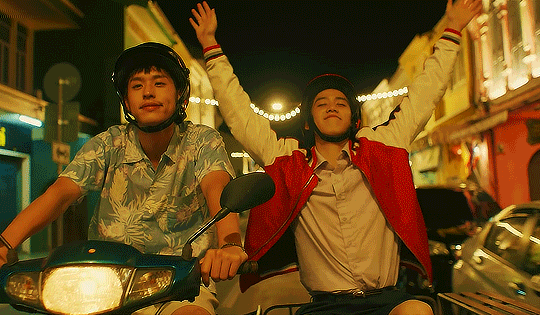 Do you ship any of these couples? Let me know your thoughts in the comment section. Bye!
---
Edited by: KimWanHee (1st editor) Nymphadora (2nd editor)
zheng shuang
high society
moon chae won
choi woo shik
addicted heroin
uee
couples i ship
mood of the day
my little princess
ray ma
dream drama pairing
fantasy couple
Please follow and like us: