Warning: SPOILERS
Can be viewed in Dark or Light Mode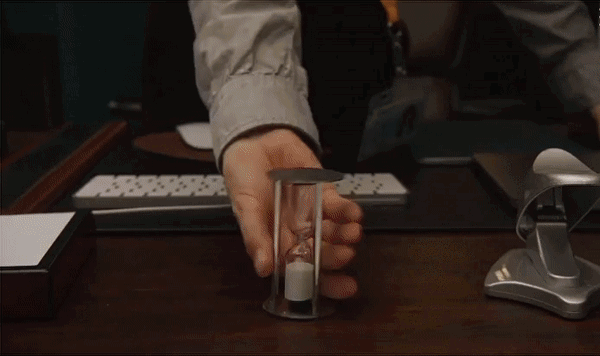 The frizzy-haired Ai is adorable, the straight-haired Ai is gorgeous.
IN
TR
ODUC
TI
ON
Title: Kanojo wa Kirei datta (彼女はキレイだった) aka She Was Pretty
Country: Japan
Genres:  Friendship,  Comedy,  Romance,  Drama  
Aired: Jul  6, 2021 – Sep 14, 2021
Episodes: 10  
Duration: 60 min.
Where to watch:

Netflix

,

WeTV

(both are region-restricted)
Kanojo wa Kirei datta is a remake of She Was Pretty (2015). The popular Korean romcom was also remade into Turkish Seviyor Sevmiyor (2016), Chinese Pretty Li Hui Zhen (2017), Vietnamese Mối Tình Đầu Của Tôi (2019), and Thai Me Always You (2021).  I haven't seen the original nor the other versions and don't plan to do so. My recap is only based on this Jdrama, with additional opinions of MDLers who have seen the original and/or other versions.
Have you seen any of these versions?
---
S
T
O
R
Y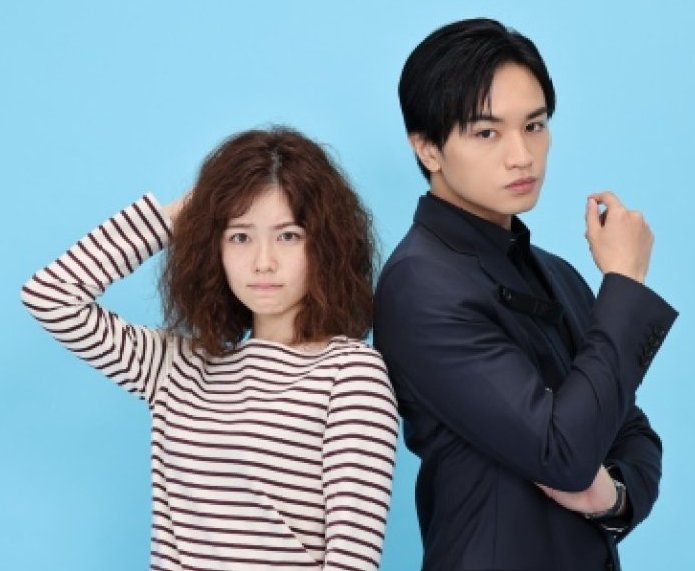 A romantic comedy, based on a true story, about two childhood friends Sato Ai and Hasebe Sosuke. They met again as adults after they had gone through a reversal of fortunes and appearances. When Sosuke was unable to recognize his childhood friend, embarrassed, Ai asked her attractive best friend Risa to appear in her place. Things, however, soon get complicated as Ai got a job at The Most Japan fashion magazine's publishing office, where Sosuke is the deputy chief editor.
---
MAI
N CH
AR
ACT
ERS
Sato Ai

(

Koshiba Fuka

)

Hasebe Sosuke

(

Nakajima Kento

)

Young Sato Ai came from a wealthy family, she was smart, pretty, and popular. When her family business went bankrupt, Ai experienced hardships that took a toll on her looks and self-confidence. Now at 28, Ai is unemployed and lives with her best friend Risa. She is eventually hired as a temp worker at The Most Japan fashion magazine's publishing office. Her childhood friend Sosuke is her boss, but he is unfriendly and a cold rationalist.

Hasebe Sosuke was Sato Ai's classmate in elementary school. When Sosuke was young, he was ugly, fat, and often bullied. Ai became his friend and comforted Sosuke on rainy days when he felt traumatized. They held a special connection with each other, but Sosuke moved to the United States. Sixteen years later, he was transferred from The Most New York branch to Japan to complete a particular mission. Now a handsome elite, he strives to meet his first love again.
---
SUPP
ORTI
NG CH
ARAC
TERS
Kiriyama Risa

(

Sakuma Yui

)

Higuchi Takuya

(

Akaso Eiji

)

Risa and Ai have been besties since high school. When Ai was laid off from her job, she moved in with Risa. Risa is a restaurant manager, pretty, confident, and stylish. Since Ai does not want Sosuke to know the real her, she asks Risa to pretend to be her. Risa ends up falling for Sosuke.

An editorial staff in The Most greeted Ai on her first day at work. He is free-spirited, attentive, and liked by everyone. Takuya and Ai become fast friends, and he ends up falling for her. He found out about Ai and Sosuke's relationship and also Risa's entanglement with them. 
The Most Japan Staff
---
ORI

GIN

AL SOUN

DTR

ACK
Opening theme: "Cobalt on Summer Afternoon" 夏の午後はコバルト by Awesome City Club   | 

  Official MV

An upbeat jazz-pop song that encourages positivism to people who work hard every day, as represented by the protagonists, to change their mindset for betterment.

"With a long decisive step as it is, I let out failures and mistakes".

Ending Theme: "Summer Hydrangea" 夏のハイドレンジア by Sexy Zone   | 

  Official MV

A slow pop song that refers to the heroine as a hydrangea flower that blooms with striking beauty either in summer heat or rain. "You're a heroine who shines in every moment" (translator: 

Vee

). 

Nakajima Kento is a member of Sexy Zone.
---
Below are the reasons I came up with on why I recommend this drama to watch, mainly to the readers who have not seen the original nor the other remakes as you do not know the story. For those who have seen the other version(s), I also bring up anonymous opinions from viewers who think that this version is better than the others.
CHA

RAC

TER

GRO

WTH
Not everyone was born rich, pretty, and smart, then grew up with good personalities and became a popular student. Sato Ai had all those until the age of 12 when her parent's family printing business went bankrupt. Since then she has witnessed humiliation on her family and later on herself. She became a self-conscious person, and since everything did not seem going well in her life, she developed low self-esteem that affected her appearance. 
Note: My brain believes that her frizzy hair is not caused by a genetic change from mom's gene (straight hair) to dad's gene (curly hair), as told in the drama! I think it's more caused by the environment and mistreatment. It's a good choice that they don't make Ai with facial flushing like the Female Lead in the original version, as facial flushing may be a sign linked to an underlying medical issue such as chronic skin disease rosacea or Cushing Syndrome.
I love Ai's character growth as she changes not to please the man in her life but is self-driven by the acceptance and encouragement from people around her. At first, The Most staff unexpectedly found out that Ai, who is employed under the General Affairs Department, is good at proofreading. They asked her to be transferred to their department temporarily to proofread their drafts as well as run errands. Although initially, she made mistakes in referring to fashion and beauty terminologies, she learned about them fast through the help of Risa, who is knowledgeable in those subjects. Later, Sosuke also accepts her bright ideas on the magazine's issues.
However, the most endearing support is from her family members that matters the most to Ai. This scene below depicts Ai at the most dejected moment in her life. No encouragement from her colleagues (thru Takuya), Risa, neither Sosuke could motivate her return. Only when she made a phone call to her dad and listened to his affectionate words that she decided to pull around.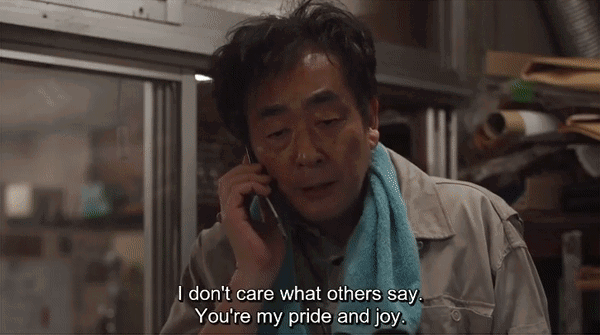 ---
R

O

MAN

C

E
Childhood acquaintance, childhood sweetheart, or whatever you call this overused trope. Yes, it's amazing knowing that you have someone (you like) from the past who never withers in loving you. But what if you don't like that person? Then he/she will be more like that annoying obsessive second lead! Adding to the awkwardness when either you or that person has changed physically or mentally. And this is exactly what happened during Ai and Sosuke's first reunion. Ai was looking for a fat guy hanging around by the fountain, meanwhile Sosuke for a thin long-haired girl, both their childhood appearances respectively.
Therefore, when they met at work neither Ai nor Sosuke found the other person's personalities alike when they were young. Her nervousness facing Sosuke made Ai clumsy in her work and jumpy in his existence, to his dislike because this imperfect worker bears the same name as his perfect childhood friend. Fortunately, in her case, his resentment motivated her to strive to be a better worker. As I mentioned above, her initiative is not to please him but is self-motivated for job survival.
I can say the romance plot is a creative modification of the overused trope, the mythical fated love no matter what happens, and use a more practical approach. Ai's hiding her real identity to Sosuke is a catalyst to normal relationship development. Their love grows naturally along with their work interaction as boss and subordinate. It becomes like a regular office romance, complete with tiptoeing around staff members to avoid discovery, as seen in the GIF below. They learned to adapt to their current state: accepting each other's weakness and admiring each other's strength, to the point that Sosuke chose the Ai he knows from work (who is actually his childhood friend) instead of the supposed childhood friend Ai (who is actually Risa).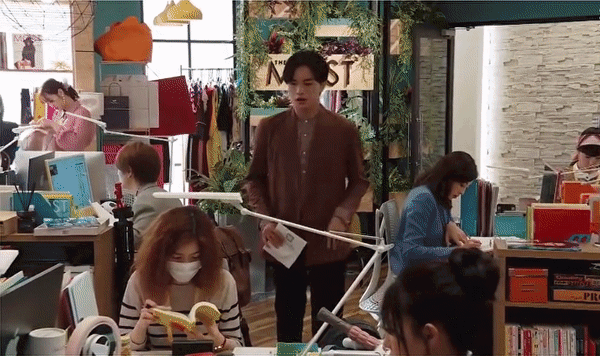 ---
SI

S

MA

N

CE
Our bonds with our friends are some of the most important connections we will make in our entire life. A healthy friendship can't grow without proper care and attention. It needs trust, equality, compassion, honesty, and independence, among other things, for a great friendship to take root and grow. The friendship between Ai and Risa is like that. They have been friends for 12 years since high school. Risa accepts the 'negative me' Ai. Ai feels comfortable walking next to the attractive and 'positive' Risa. Although Risa gives Ai advice to improve herself, she still let Ai comes to her senses herself.
Their trust and honesty in each other are tested in the form of Sosuke. It can be in any form for us. For friends who are in the same social group (example: school, club, sports) it can be the competition of who wins or who has better grades. For friends who work at the same place, it can be competition for promotion. Or there are simply sabotages by an outsider who envies the bond. When the test comes, Ai's statement "is just one thing that will ruin everything?" is a valid argument that they have been through together matters the most. The strained relationship between them created the utmost fear of losing each other. Their wiping tears from each other's cheeks are so cute, but it also symbolizes a very loving, very intimate gesture as they are comfortable being with each other.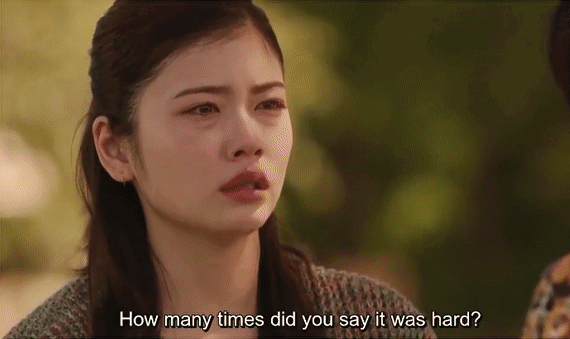 ---
OFF

ICE

 DY

NAM

ICS
Office dynamics are all about how the people in an organization function with one another to accomplish tasks as a whole unit. Being a part of an office environment isn't so much about you as an individual, but rather how you can help your company reach its overall goals as part of the team. Initially, fear and avoidance of the editors towards the new editor-in-chief Sosuke are due to his strictness and cold manner towards them. When the mutual trust and teamwork between the staff members and Sosuke have developed, they work together to overcome work issues coming from inside higher up's demand as well as business competition.
Honestly, I don't really like a lot of business issues in many dramas that are business-focused. I consider work issues can drag the plot unnecessarily, and many times I get bored and skip or fast forward the business scenes. However, in this drama, the business aspect is not draggy. Issues happened, but they were resolved quite fast due to the drama is short compared to other versions. There are side stories, but they do not take over nor water down the main plot. And most importantly, as I mentioned in the 'Character Growth' part, the staff members are supportive towards Ai and regard her as a part of the team though she is temporarily assigned there.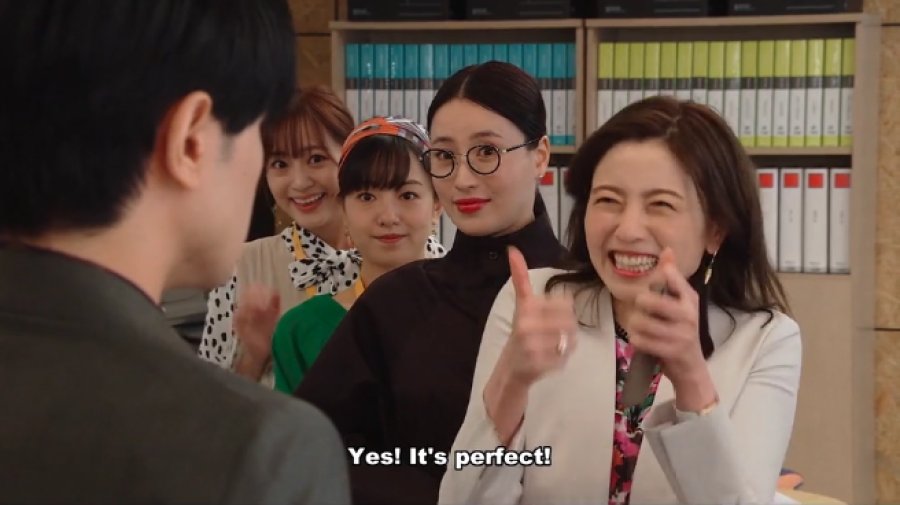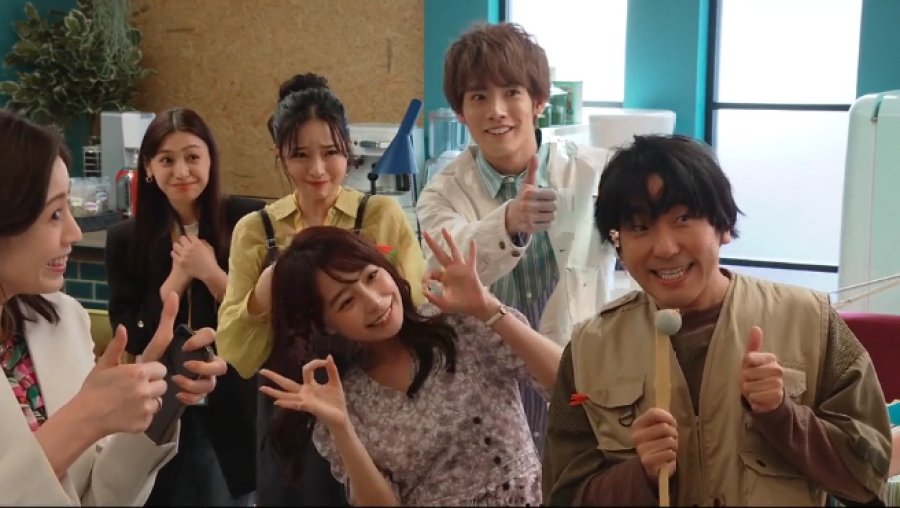 ---
A BE

TTE

R

 

VE

RSI

ON?
The last thing to mention is the question of whether this is a better version than other remakes or even better than the original Kdrama? I cannot personally conclude it as I have not watched the other versions. However, opinions from viewers, who at least watched two versions, are in favor of this adaptation. Comments from those who watched the Korean original and/or the Chinese/Thai remake (either completed it or dropped it) can be summarized as follow:
Since the Japanese version is short, only 10 episodes, the story flows straight-to-the point without leaving out the main events. No draggy side stories neither fillers. The Chinese version with 46 episodes is the worst.
Overall no exaggerated scenes or acting like in the Thai version.
Specifically for the Female Lead, her acting is not over-the-top, and her appearance is more natural in comparison with the Korean version. For the Male Lead, his acting is not stiff in comparison to the Chinese version.
The chemistry between the OTP is better in Jdrama (unknown comparison).
Personal preference of liking the Japanese actors/actresses in Jdrama
This Jdrama doesn't focus on the Female Lead's physical traits and transformation, but more on the lack of self-confidence and her character growth (unknown comparison).
Negative comparison: this version seems to have a lower budget than the Korean version.
I, together with other viewers, at some point, wanted a better version with a different ending after watching the last scene in Episode 1, as shown below. It's a good thing Sosuke changed! Would a different ending (Ai doesn't end up with Sosuke) makes it a better, if not the best, version? And with this question, we come to one reason why you may not want to watch this drama: the Second Lead Syndrome.
---
SEC

OND 

LEAD SY

NDR

OME
It seems like in almost every romance there are second leads (either male or female but mostly male) who are super nice to the female lead, in comparison to the cold or mean initial treatments of the male leads towards their female counterparts. Sometimes, second male leads may become pushy to female leads or disrupt the romance. The Second Male Lead in this drama, Higuchi Takuya, is an angel compared to other second male leads. Just watch the drama if you are curious why. Not that you haven't been warned of the SLS!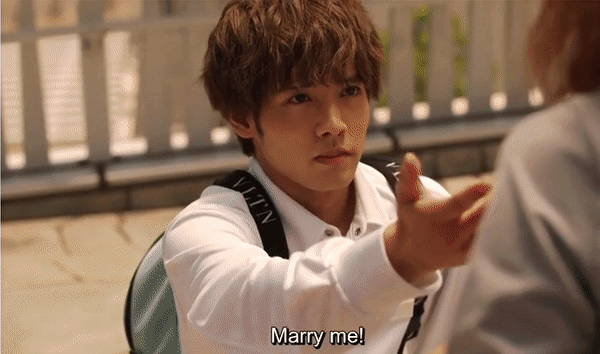 ---
CO

NC

LU

SI

ON
With the ending of this article, I will tell you one more reason why you should watch this drama if you haven't. Since it's a remake, I have known the outcome, although I haven't watched the original version. Therefore, we can feel safe as we already expect the drama ending does not disappoint us. 
Kanojo wa Kirei datta is an inspirational Jdrama. Despite the misfortunes, Sato Ai still strives to do her best. In due time she shines at her new workplace. She learned a valuable lesson concluded in her work diary, as presented by Takuya at the office meeting below.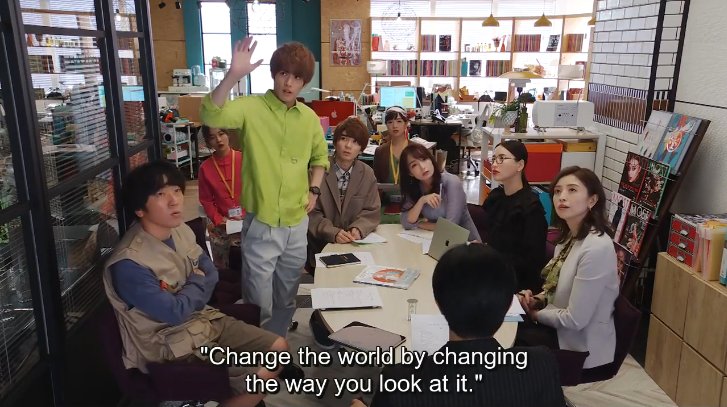 Thanks for reading, and happy watching!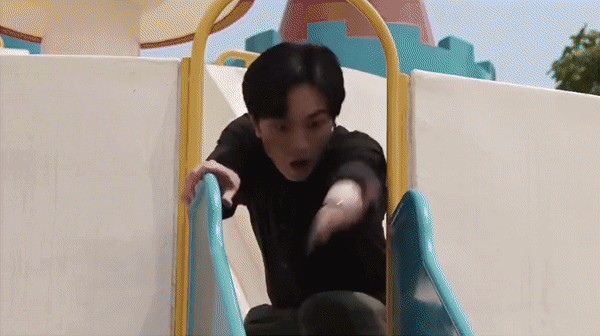 ---
Acknowledgments: Big thank you to Dylan Rodrigues for providing info on this drama specifically and Jdramas generally. Thank you to the editors who edited this article. 
Credits: I do not own any of the images; credits go to their respective owners. The images are from drama posters, stills, screenshots, Youtube, and Internet searches. GIFs are self-made from drama scenes.

---
Edited by: YW (1st editor), BrightestStar (2nd editor)
Please follow and like us: